Insight into life at Zest
Meet three of our existing team (Becky, Lawrence and Kieran) who can give you a genuine insight into life at Zest. We'd like to say it's a completely unbiased portrayal but in reality the purchase of cake, chocolate and the promise of an early finish probably had an influence on their answers.

The purpose of this article isn't just to highlight what a great employer we are (although that's a big part of it)… we also want you to qualify in your mind if the path which these three have taken resonates with you.
Q. What makes you feel good about working here?

B. Once you've completed your training and understand your market you are given autonomy and trusted to do your job. At no point do I feel pressured to meet targets, the motivation comes from me directly… the amazing bonus and incentive scheme is also a big plus.

L. The people and environment, the typical stereotypes associated with the sector do not exist and we're all encouraged to share our experience and support others in their development. I'm given lots of freedom to develop my sector as if I'm running my own small business within the group. We're all intrinsically motivated so Management aren't concerned about how many calls you've made, the number of CVs sent and all the other metrics which don't necessarily translate to successful performance.

K. Recruitment can often be associated with a high-pressured environment, dominated by churning out numbers, hitting KPIs. At Zest there is a clear focus on delivering successful results; however, there isn't an external pressure. I'm given the freedom to prioritise my own time and select which projects I work… this enables me to focus my time on what really matters. The commission cheques are pretty good too!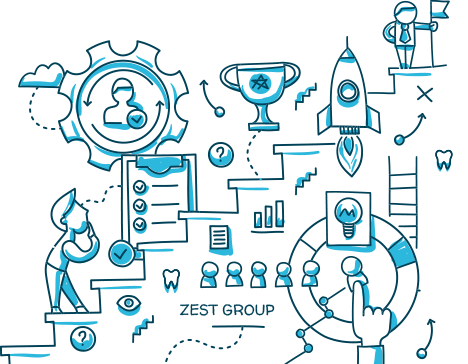 Q. What do you day-to-day that excites you?

B. Managing multiple projects means that no two days are ever the same. I genuinely enjoy helping people secure their dream job, no matter how cheesy that sounds.

L. Building new relationships and 'meeting' new people is exciting for me. The people I speak to are all working with cutting edge technologies and new treatments which are going to shape our future. It's great to see a client's journey where the key people I've placed make a positive contribution to the organisations growth.

K. It's the ability to quickly build credibility and gain somebody's trust. You're in a position where people feel comfortable to talk about anything and everything. It's fantastic to see somebody you've built a relationship with land the job they so desperately want and to think you've played a big part in facilitating this.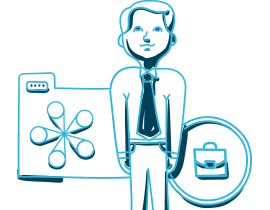 Q. One thing every grad should know?

B. Listening to people is really important, finding out how people think. Listen to understand, rather than listening to respond.

L. Don't be afraid to make a mistake and get out of your comfort zone. Making a sales call to a new client or speaking to a highly experienced candidate for the first time can be daunting. The best way to learn is by doing and you'll be surprised at how nice people are (most of them don't bite).

K. Don't panic when the perfect job doesn't automatically land on your lap. You need a platform in which to develop your core skills and you should look for opportunities where this can be achieved. Listen, expect to be challenged and apply some creative thought when trying to secure your first opportunity.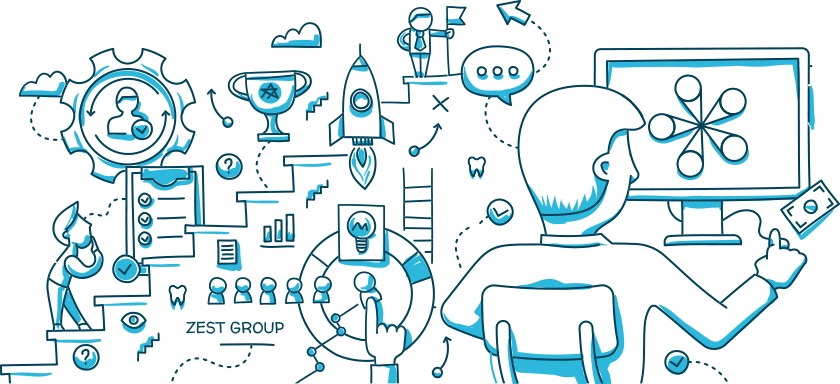 Q. You've got the opportunity to create the perfect clone Recruiter for Zest. What traits do they demonstrate?

B. Proactive, intuitive, self-motivated, ability to listen, attention to detail and able to put up with the constant Football, Cricket, Golf chat.

L. Drive, initiative, resilience, personable, agile mind, fun and down to earth.

K. There are a broad spectrum of skills which are needed in this job but without question, you need to have a genuine enjoyment in dealing with people. There are ups and downs along the way so it's important you demonstrate a tenacious nature coupled with a drive to succeed. Also don't take yourself too seriously and be willing to laugh at yourself.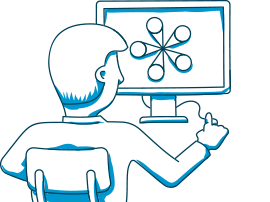 Q. What single element of your training has had the biggest impact on your success as a Recruiter?

B. Be nosey! I quickly learnt that asking the right questions, probing further and picking up on the small detail was incredibly important.

L. It's the acceptance that everybody is unique and encouraged to find their own style and execute what works for you. We're given the skills and recruitment tools to work efficiently, but how we put them into practice is dependent on the individual. I particularly enjoy the freedom and encouragement to be able to develop my own structure and working style.

K. I can't pin down one single element, it's the ongoing mentorship. Having started with no recruitment experience I knew it would be a huge challenge but there's such a high quality team in place you quickly learn that there's a right way of doing things and everyone is happy to share their experiences.